About
About this site
This website was developed and is maintained by Refugee Solidarity Network (RSN) and Refugee Rights Turkey (RRT) for the purpose of offering accurate and up-to-date legal information for those seeking to understand the rights, procedures and obligations applicable to persons seeking asylum in Turkey. All information content on this website was developed by RRT in the framework of a project partnership with RSN.
The website provides a comprehensive range of legal information for refugees from Syria as well as those from other countries of origin. The website is intended for informational purposes only. Refugees and asylum-seekers seeking further advice and assistance on legal matters can contact RRT's Helpdesk for Refugees.

Refugee Solidarity Network (RSN) is a US-based non-profit organization that seeks to protect the rights of people uprooted from their homes and strengthen the communities where they seek safety. In partnership with advocates and local stakeholders, RSN develops capacity in refugee host countries outside the U.S. and advances legal frameworks that uphold human rights. RSN believes the complexity of forced migration requires a flexible, collaborative response focused on achieving sustainable solutions.
www.refugeesolidaritynetwork.org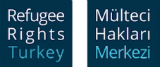 Refugee Rights Turkey or RRT (Mülteci Hakları Merkezi in Turkish) is an Istanbul-based independent non-governmental organization, which provides specialized legal counseling and assistance services to refugees, asylum seekers and other vulnerable migrants in Turkey. RRT also delivers legal reference materials, trainings other expertise support services to lawyers and NGO legal practitioners, and advocates for improvements in Turkey's legislation and policies affecting refugees and migrants in line with international and European standards.
www.mhd.org.tr
Turkey asylum context
Turkey currently hosts over 3.6 million refugees from neighboring Syria in addition to an estimated 300,000 asylum seekers from other countries of origin including Afghanistan, Iraq and Iran. The country also deals with significant irregular migration flows mainly transiting Turkey in the direction of the EU. Migration and asylum procedures in Turkey are administered by the Directorate General of Migration Management (DGMM) on the basis of the Law on Foreigners and International Protection (LFIP), which came into force in 2014.
While refugees from Syria are subject to Turkey's temporary protection policy, asylum applications from other countries of origin are processed within the framework of the international protection procedure established by the LFIP. Although the two procedures are governed by slightly different criteria and procedures, DGMM is the Turkish Government agency responsible for the registration and determination of all asylum applications in Turkey. This website offers relevant detailed information and guidance applicable to both procedures, and thereby for refugees from Syria and asylum seekers from other countries of origin.
RSN-RRT cooperation dialogue
Since 2015, RSN and RRT have been working in close partnership with the goals of expanding and strengthening RRT's legal services for refugees and migrants and of developing a comprehensive capacity-building program that channels expertise and experience to lawyers and other professionals in Turkey on refugee law and policy. RSN and RRT's efforts to strengthen the availability and quality of legal representation for asylum seekers and migrants in Turkey also involves support for the state-funded legal aid scheme (Adli Yardim) administered by bar associations.
While legal protection of refugees and development of legal aid services in Turkey is the immediate focus of the RSN-RRT framework, the two organizations also work together to contribute to similar efforts for the development of rights-based approaches and capacity-building in other national contexts, particularly comparable countries in the Global South either hosting similarly large-scale refugee populations or dealing with otherwise complex migration flows.
Donor Acknowledgement
This website was developed as part of a project supported by the US State Department Bureau of Population, Refugees, and Migration (PRM). RSN and RRT would like to thank PRM for making the development of this resource possible.